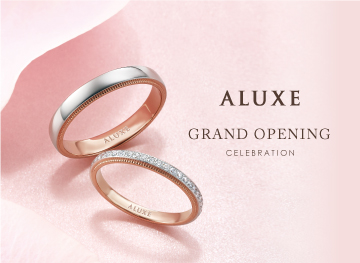 Shop Information
Grand Opening Celebration
ALUXE
"We believe that getting married is worth celebrating and we want to spread the happiness," said the CEO of ALUXE regarding the founding concept.
With diverse design and sophisticated craftsmanship, ALUXE wedding rings represent every aspect of beautiful love. ALUXE offers an array of GIA diamonds and wedding ring sets, enabling customers to mix and match. Our considerate consultation service on wedding rings and perfect price allow customers to tailor-make their very own loving keepsake.
ALUXE introduces the exclusive acredo collection to newlyweds. Couples are able to create their own wedding rings online. The 100% customized design features personal fingerprints which makes the rings unique.
Launched in 2006, ALUXE soon became the best wedding ring brand online! In 2010, the first concept store opened in Asia, and showed a magnificent performance in a short time. Ever since then, ALUXE has become the ideal wedding ring brand in the industry. In 2015, we opened our first oversea store in Tsim Sha Tsui. In terms of the environment, products, consultant quality, after-sales service, and producing procedure, ALUXE was verified as a "quality wedding merchant" by HKPC.
In order to provide better service, ALUXE moves to Mira Place 1 in 2017 and officially opens on Sep 27. To celebrate the grand opening, visit the Mira Place store from Sep 27 to Oct 31 and receive free gifts upon purchase of designated products.
Other Shopping Highlights
Shopping Hightlights-Detail