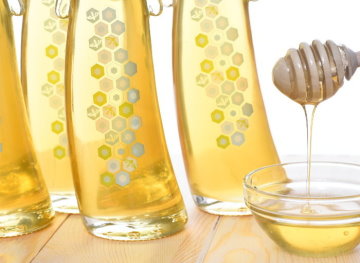 Shop Information
Grand Opening Celebration
Hexapi Honey`s busy bees produce over 35 unique raw organic honeys and honey drinks and sweets from a wealth of natural landscapes virtually untouched by the hand of man.
Our honeys are the culmination of hard work that begins when the first flowers blossom and the bees start their busy task collecting nectar. In the hive, the precious nectar is then enriched with bee enzymes, pollen, propolis, vitamins, amino acids, antioxidants and minerals.
To ensure absolute purity our honey is bottled directly at the bee farm and never blended, colourized or pasteurized. Moreover, are all our honeys annually certified organic by DE-ÖKO-006 and Bioland Germany which ensures organic farming principles with highest demands on quality, taste and naturalness.
Our motto, "100 % natural, raw, pure & untreated – Straight from the comb!" is hence not only reflected in our superior quality, unique honey flavours and health benefits but also summarizes our philosophy on fair partnerships with rural family beekeepers and the protection of local agricultural.
Hexapi Honey now officially opens its first store in Asia in Mira Mall on Oct 16th. To celebrate the Grand Opening, visit our Mira Place store B105 from Oct. 16th to Oct. 31st and receive free gifts upon purchase of designated products.
Hexapi Honey – Retaining Natures Blessings!
Other Shopping Highlights
Shopping Hightlights-Detail