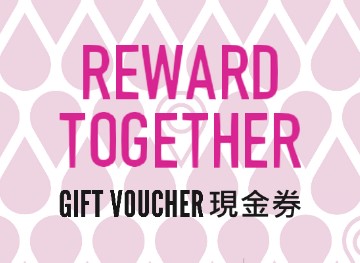 Mira Place Gift Vouchers


By presenting the original cash voucher, you are entitled to a HK$100 credit at participating shops at Mira Place.
No downloaded copies or photocopies of the voucher would be accepted. Only one voucher can be used per transaction, and each voucher can only be used once. Vouchers are valid for 3 months from the date of issue. For detailed terms and conditions, please click here.
The following shops accept Mira Place Gift Voucher (in alphabetical order):
Last update: 16 April 2018
Dining
| | | |
| --- | --- | --- |
| Shop | Location | Shop Number |
| Burgeroom | Mira Place 1 | 207 |
| HABITŪ table | Mira Place 1 | B142 |
| Chateh | Mira Place 1 | 405 |
| COCO | The Mira Hong Kong | G/F |
| Cuisine Cuisine | The Mira Hong Kong | 3/F |
| Emack & Bolio's | Mira Place 1 | G38 |
| Espresso Alchemy | Mira Place 1 | B116 |
| FIAT CAFFÈ | Mira Place 1 | B131 |
| Gaia Veggie Shop | Mira Place 1 | 212 |
| Marks & Spencer Food | Mira Place 1 | G37 |
| Menya Musashi | Mira Place 1 | 408 |
| Mike's Chicken Comida de Portugal Restaurant | Mira Place 2 | 167 |
| PizzaExpress | Mira Place 1 | 213 |
| Prost by King Ludwig | Mira Place 1 | 302 |
| Ramen & Bar Ippei-an | Mira Place 1 | 203 |
| Room One | The Mira Hong Kong | G/F |
| sen-ryo | Mira Place 1 | 205 |
| so thai so good | Mira Place 1 | 105 |
| SUN TUNG LOK Chinese Cuisine | Mira Place 1 | 405 |
| The Chop House | Mira Place 1 | 301 |
| Tsui Hang Village | Mira Place 1 | 507 |
| Twinkle Baker Décor | Mira Place 1 | 201 |
| Vibes | The Mira Hong Kong | G/F |
| WHISK | The Mira Hong Kong | 5/F |
| WIRED CAFE | Mira Place 2 | B169 |
| Yamm | The Mira Hong Kong | G/F |
Shopping
| | | |
| --- | --- | --- |
| Shop | Location | Shop Number |
| 6IXTY 8IGHT | Mira Place 1 | 110-113 |
| agnès b. | Mira Place 1 | G33 |
| ALUXE | Mira Place 1 | 129 |
| American Eagle Outfitters | Mira Place 1 | G07-G09 |
| Apuweiser-riche | Mira Place 1 | 125 |
| Ashworth | Mira Place 1 | G29 |
| BLANC DES VOSGES | Mira Place 1 | B126 |
| Calvin Klein Underwear | Mira Place 1 | 139 |
| CHIC PRIVATE i SALON | Mira Place 2 | 282-283 |
| Chow Sang Sang | Mira Place 2 | G61&161 |
| collect point | Mira Place 2 | B163&B166-B173 |
| Cool Point | Mira Place 1 | B108 |
| Coronet | Mira Place 1 | G16 |
| Cosme Kitchen | Mira Place 1 | G21 |
| DAWN | Mira Place 2 | 362 |
| DAWN Wedding | Mira Place 2 | 281 |
| DESCENTE | Mira Place 2 | G62&162 |
| DNA | Mira Place 1 | 232 |
| ECCO | Mira Place 1 | G15 |
| Elsa Lee | Mira Place 1 | 131 |
| FURLA | Mira Place 1 | G35 |
| FUTAGO | Mira Place 2 | 166 |
| GEOX | Mira Place 1 | G13 |
| GU | Mira Place 1 | 115-123 |
| HACHill | Mira Place 1 | 210 |
| HEAVEN PLEASE+ | Mira Place 1 | 230 |
| HOAX | Mira Place 1 | 208 |
| HOMELESS | Mira Place 1 | 229A |
| ICE FIRE | Mira Place 1 | 228 |
| JILL STUART | Mira Place 1 | 102 |
| Kesalan Patharan | Mira Place 1 | B106 |
| le coq sportif Golf Collection | Mira Place 1 | G28 |
| Links of London | Mira Place 1 | G32 |
| Lisa & Sara | Mira Place 1 | 240 |
| Marukyū Zakka | Mira Place 1 | 229 |
| MAUD FRIZON | Mira Place 1 | G03 |
| Methodology | Mira Place 1 | 237 |
| Mila Owen | Mira Place 1 | 108 |
| Mira Spa | The Mira Hong Kong | B3 |
| Mouvine's Jewelry | Mira Place 1 | Kiosk D, L1 |
| MR.COLLECTION | Mira Place 1 | 225 |
| MUJI | Mira Place 1 | 306-311 |
| Munsingwear | Mira Place 1 | G12 |
| mushroom | Mira Place 1 | 126 |
| NAIGAI | Mira Place 1 | 133 |
| NAIL NAIL | Mira Place 1 | B102 |
| Naturally Good | Mira Place 1 | B138 |
| Piccadilly | Mira Place 1 | B115 |
| Ponti Wine Cellars | Mira Place 1 | B101 |
| Poppis | Mira Place 1 | G23 |
| Porter International | Mira Place 1 | 138 |
| REGAL | Mira Place 1 | 226 |
| RICCINI | Mira Place 1 | 135 |
| Rouge Amour | Mira Place 2 | 268 |
| SamsoniteRED | Mira Place 1 | B125 |
| Shiny Beetle | Mira Place 1 | 227 |
| snidel / Lily Brown/ gelato pique | Mira Place 1 | G20 |
| SPORT B. | Mira Place 1 | G17 |
| TAG-Y-OU | Mira Place 1 | L2 |
| The Commercial Press | Mira Place 1 | B109-B113 |
| The Hong Kong Optic | Mira Place 1 | 136 |
| the mira PRIVATE i SALON | Mira Place 2 | B361 |
| TOMICA | Mira Place 1 | B139 |
| TROLLBEADS | Mira Place 1 | G26 |
| Tetsubin | Mira Place 1 | B133 |
| UNIQLO | Mira Place 1 | 215-223 |
| Uppacase | Mira Place 1 | 211 |
| Vivienne Westwood | Mira Place 1 | G01 |
| WILD ORGANIC | Mira Place 2 | 168-169 |
| WST End by HOAX | Mira Place 1 | 209 |
| You and Me | Mira Place 1 | B137 |
Other Event & Promotions
Event & Promotions-Detail