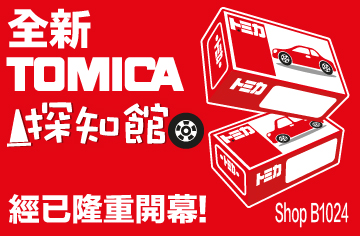 Shop Information
The first establishment of TOMICA 探知館 in Hong Kong!
TOMICA 探知館
Since 1970, TOMICA series are popular amongst toy car's fans. Although children who collected TOMICA cars grow from kids to adults, their enthusiasm never ceases. They share this collection interest to their children which allow TOMICA becomes a communication bridge and parent-child activities.
The first TOMICA 探知館provides exploration and learning experience to visitors. As a TOMICA sharing platform, parent & children can play and learn about the TOMICA history and vehicles knowledge.
In TOMICA 探知館, there are different zones including TOMICA History Wall, TOMICA Cars Book corner, TOMICA Game Zone, Parent-Child Playing Zone and TOMICA Diorama for you and your kids to explore. Come and visit to enjoy the new TOMICA experience in TOMICA 探知館!
Other Shopping Highlights
Shopping Hightlights-Detail