Surprise your beloved Mom on Mother's Day!
Mother's Day is just around the corner! It's time to tell your superwoman how special she is, with a special gift or exquisite delicacies. Mira Place has prepared a perfect guide for you to surprise your mom and make the day an unforgettable one.
Sweeten the Day with Mom's Favourite HABITŪ Rose
HABITŪ table (Shop B142)
The homemade cake features three light-as-air tiers of soft sponge cakes, layered with homemade rose filling and topped with velvety whipped cream, fresh strawberries, pink chocolate shavings and edible Parisian rose petals. During Mother's Day period, you will receive a limited-time Mother's Day cake tag for FREE!
---
Mother & Father's day Celebrations at Moon Lok Chiu Chow
Moon Lok Chiu Chow (Shop 405)
Time to treat your Mom & Dad something special this Mother & Father's day! Moon Lok Chiu Chow presents a range of delicately lunch & dinner set menu embracing signature classic Chiu Chow dishes and papaya bird nest dessert serving from 1 May – 30 Jun.
---
Mother's Day Special Redemption Offer
Ponti Wine Cellars (Shop B143)
During 1-15 May, customer can redeem Edouard Artzner Block of Duck Foie Gras (45g) or Block of Goose Foie Gras (45g) at special price with any purchase of wine items (max. 2 per customer).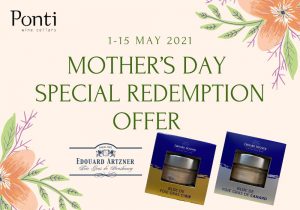 ---
Limited offer to Kiss Your MOM
Prost by King Ludwig (Shop 302)
Book before 6 May with HK$100 deposit per person can enjoy 10% off for dinner (before 10% service charge). In addition, 1 special cake will be served when ordering one of the Mother's Day Main Course, reserve now!
#French Spring Chicken and Prawns on Jambalaya Grilled and marinated
*All the main course will serves 2-3 person.
---
Enjoy 22% off of the Mother's Day set Menu
PUTIEN (Shop 269 – 270)
Book 2 days in advance to enjoy 22% off on the Mother's Day set Menu from Monday to Thursday. (Terms and conditions apply)
Click here for Mother's Day menu
---
Tsui Hang Village Mother's Day Set Menu for Four
Tsui Hang Village (Shop 507)
Pamper your beloved mum with exquisite Cantonese cuisine this Mother's Day! Tsui Hang Village (TST) presents the Signature Cantonese Set Menu (HK$1,788 for four) and Bountiful Cantonese Set Menu (HK$1,988 for four), both featuring five all-time-favourite Cantonese dishes, fried rice and desserts. Available from 1 – 9 May.
ALUXE Gift of Happiness and Romance
ALXUE (Shop 129)
Best wishes to the most important people in your life. You can enjoy a 17% cash reward from 1 May to 30 Jun. ALUXE wishing you happiness always.
---
Limited Time Offer: Up to 25% Off – The French Sensuelle jewellery brand DIDIER DUBOT
DIDIER DUBOT (Kiosk LG-B)
The brand embodies the essence of a woman's 'Sensuality' and 'Charm' with 14K Rose Gold and Natural Stones. We are happy to provide Limited Time Offer: Up to 25% Off on selected items.
---
Enjoy 20%off Mother's day promotion of FERNANDA products
DNA (Shop 232)
Enjoy 20%off Mother's day promotion of FERNANDA products, must-have products including: Fragrance Body Mist, Fragrance Hand Gel and Hand cream collection, you will be pleased to find the best thing you should have.
---
Mother's Day Special Offer
Hair King (Shop G10)
Get 10% off on Previa & Insight cleansing and care products.
---
Mother's Day with OtterBox
OtterBox (Area B1-A)
Celebrate all the mother figures in your life with a thoughtful gift from OtterBox! Whether durable cables, protective phone cases, or even a trusty wine tumbler, the OtterBox vending machine has plenty to choose from.
---
Mother's Day Special
The Beauty Station (Kiosk LG-C)
From 1 May to 31 May, enjoy 10% off when you purchase 2 items and 20% off when you purchase 3 items at The Beauty Station. The Beauty Station is a one-stop beauty destination with the top makeup, skin care, perfume and personal care brands. So this Mother's Day, let your mom's beauty shine with a perfect beauty gift!
---
Mother's Day Special
VC Walker (Kiosk LG-G)
It's time to thank your mom! A special gift set offer HK$190 on designated collection with a free thank you card! Come and pick a gift to your dearest mother!
DEAR MOM : Best Gift for the Best
Kesalan Patharan (Shop B106)
Upon introducing a new customer and purchase Single Eyelash Designing Service (120pcs or above), both existing and new customers can enjoy HK$100 cash discount, plus extra one-time free complimentary Finish Coat & Eyelash Removal Service (value HK$1,010). Book now and enjoy the beautiful moment with our mothers!
---
Mother's Day Special Offer – Pamper Your Mom with NAIL ME
NAIL ME (Shop 266)
NAIL ME offer you a way to pamper your mum on this lovely Mother's Day. Visit us with your mum in May, she would be able to enjoy 50% off* on any service! For appointment, please call 2311 0337.
(* 50% off applied to all basic services, including basic or gel manicure and pedicure. Discount is not applicable to nail art.)
---
Mother's Day Special
NAIL NAIL (Shop B102)
To celebrate the sweet Mother's Day, we are offering first trial price HK$350 for you to enjoy soft gel nails with 2 colors (original price HK$470). Let's enjoy with your beloved families!