Exciting shops and exquisite cuisine have arrived at Mira Place!
Nina Patisserie (Kiosk LG-C, G, Mira Place 1)
Managed by Nina Hospitality and established in 2021, Nina Patisserie is a specialist to craft artisanal cakes and pastries made with the finest ingredients and seasonal specialties. Its cake and pastry collections quickly became very popular following the successful opening of its first shop in Nina Hotel Tsuen Wan West, and the brand has since expanded its presence to other locations, bringing its exquisite offerings to more customers across Hong Kong. Nina Patisserie shops are now available at all prime locations in the city, from Hong Kong Island to Kowloon and New Territories, along with pop-up locations for delightful shopping experiences. The shops are complemented by a 24/7 online shop that enables guests to order their favourite cakes and pastries anytime at their convenience at ninapatisserie.com .
---
AbouThai (Shop 172, 1, Mira Place 2)
Established in 2015, AbouThai is a Thai lifestyle chain store, with the meaning "About Thailand". AbouThai sources the highest quality Thai products and imported directly to Hong Kong. Product categories include but not limited to herbal products & essential oils, fresh fruits & vegetables, snacks & beverages, chilled/frozenn foods, seasoning, personal care & beauty products, furniture and household products etc., with over 1,000 exclusive products. AbouThai operated 25 branches as of August 2022. In March of the same year, the first "ABT Convenience Store" was opened, and with different sales platforms. AbouThai Songkran Festival Big Sale will be held in April every year in Hong Kong.
---
Cabin Crew Coffee by Holly Brown (Shop 228, 2, Mira Place 1)
Cabin Crew Coffee by Holly Brown is a café and wine bar restaurant that consist of superior service and classy environment. At Holly Brown, each coffee origin is roasted to its full potential to make the best cup of coffee. In addition, variety of delicacies prepared by our chef will delight you a lot. The great hospitality, premium coffee, comfort dishes with good wines highlight our aim of delivering the best place and experience for dining.
---
MUTA Restaurant by ATUM (Shop B131, B1, Mira Place 1)
At MUTA, we're embodying that sensory shift as best we can, through the simple act of slow living. You'll feel it as soon as you step away from the hustle and inside our restaurant – your everyday stress fading away at ease and nothing but humble pleasures, served up and dished out with you in-mind. Here, it's about eating well to live well – a philosophy we share with two enduring global cultures, on opposite sides of the world: the wabi-sabi of Japan and Italy's la dolce vita. We're fluent in both, connecting modest desires with a lust for life, where the minimalist (im)perfection a few incredibly fresh ingredients blend together in comfort food harmony.
---
Ciel de Bethleem (Shop G26, G, Mira Place 1)
Welcome to CIEL DE BETHLEEM, a boutique specializing in high-quality clip-on earrings and jewelry. We are dedicated to providing our customers with the finest selection of exquisite pieces. Our products are designed with the principles of comfort and painlessness in mind, to ensure that wearing our pieces feels effortless and exudes confidence.
---
DIDIER DUBOT (Kiosk L1-B, 1, Mira Place 1)
DIDIER DUBOT is a French inspired luxury jewelry brand that embodies the essence of a woman's 'Sensuality' and 'Charm'. The brand decorates its collections with 14K Rose Gold and Natural Stones to compliment and illuminate the beauty of a woman.
---
Samuel Ashley (Shop 133, 1, Mira Place 1)
Samuel Ashley is a Hong Kong-based brand of leather goods founded in 2008. Devoted to exquisite craftsmanship with a great passion and penchant for leather, the label designs and creates leather pieces to tell stories of two characters — Samuel and Ashley. Samuel represents leather accessories of men while Ashley, speaks for leather accessories of women.
---
Coolistic (Shop B103, B1, Mira Place 1)
Selecting unique artisan products from Japan and all over the world, Coolistic is a lifestyle select shop to let you finding your soul and life. In our shop, you could find a product having a minimal design with a long history and story from the creator. Or you could just find something that is cute and funny to give you and your home fully charged with joys.
---
Skymart (Shop G17, G, Mira Place 1)
SKYMART has been established since 2015 which is committed to providing women with more choices for dressing. For this we established our own design brand PEACHII in 2021. PEACHII is derived from the English word "PEACH". The tiny peach contains rich juice which exactly represents the purpose of PEACHII. As a start-up local design clothing brand in Hong Kong, it includes the latest fashion sense, pursuit of superior quality, comfortable fit cutting and various matching methods strive to make every guest feel comfortable and satisfied after wearing PEACHII's clothing, such as taking a bite of top-quality peach, unforgettable.
---
Sher Brace (Shop 286, 2, Mira Place 2)
Founded in 2017, Sher Brace is a local Hong Kong lingerie brand where functionality meets fashion. Knowing that breasts come in different shapes and sizes, Sher Brace's mission is to " tailor-make functional lingerie" for women, catering to every body in her " made-to order" lingerie offering with the professional one-on-one fitting service. Alongside with the emphasis on functionality to bring the best condition of your breasts, the brand also strives to create lingerie of timeless and contemporary design.
---
Suisse Reborn (Shop G25, 1, Mira Place 1)
Suisse Reborn was born in Montreux, a town on the shoreline of Lake Geneva, Switzerland. Leaning on Mont Pelerin, one of the highest mountains in Switzerland, Montreux is known as "Swiss Shangri-La". The local chemical and medical research there are known as the "Swiss National Science Foundation" in the world. After 10 years of research, the skin experts and doctors of Suisse Reborn have explored the mystery of nature's ability to survive and regenerate in the face of various external changes, helping the skin resist external aggressions while maintaining a good "self-regeneration cycle". They developed "Rebirth Formula" and applied it to skincare products which can repair and activate skin cells, conquer signs of aging and stimulate the skin's self-regeneration power. Free from the shackles of time, get "Ageless Skin" and regenerate youth.
---
Lowrys Farm (Shop 108, 1, Mira Place 1)
With "She follows her own feelings" as the concept, LOWRYS FARM cheers all women on with fashion items that are so trendy you want to "wear them now" and so standard that you want to "wear them for a long time."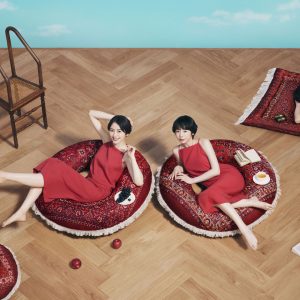 ---
White on (Shop 131, 1, Mira Place 1)
White on is a jewelry & home decoration brand founded by Hong Kong designers. We believe that crystals carry the energy given by nature for thousands of years. Through White on's unique interpretation of crystals, we hope everyone will have personal character and get your own luck.
---